In addition to prepping for the big Halloween party that is here tomorrow the kids have a Halloween party at school today (mostly just a parade). I sent them in their costumes and they will have lunch and then I will go back down for the parade.
The Police Officer & Madeline
Preston was thrilled to dress as a Police Officer and Maren had a 360 change of heart in the last 48 hrs and is Madeline! She looks adorable and is really enjoying the yellow hat although she prefers to wears it with the black ribbons down in front of her face (I pick my battles and this is not worth picking).
I can't guarantee she will be wearing Madeline tomorrow for ToT or the party but if not she will be an adorable U of M Gopher Cheerleader. Again I can't complain because she really wanted to be Dora the Explorer but a blond blue eyed girl in shirts and a tshirt (in MN in October) just would not have worked.
Coloring at school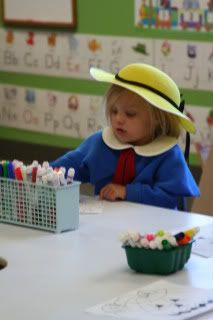 School Parade