We had a non-stop Saturday, Preston had soccer camp from 10-11:30 and then Maren had a birthday party from 12-2. While Maren was at the party we dressed Preston and his friends up like a rock band so they could participate in the town parade!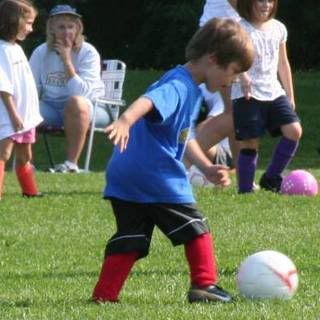 It's safe to say the Preston doesn't have great rock band hair, he simply has too much and it is way too thick! The other members of the band had great spikes and mohawks and Preston just had a messy mop!
Then we stayed around for all the food and games at our towns Volkfest, it was a warm day so everyone had a blast. We came home grabbed some grilling supplies and meet up with friends for dinner and drinks.
GR is out of town for the next week so just the same old stuff - cleaning, work, school and small house projects!